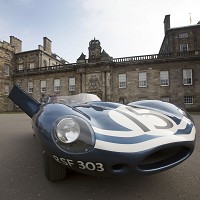 A legendary Scottish racing team is being honoured at a spectacular exhibition of rare cars in Edinburgh this autumn.
The Ecurie Ecosse team competed in Formula One, Formula Two and most notably the iconic 24-hour race at Le Mans.
Car buffs wishing to see the biggest-ever ensemble of this team's racing motors can head to Holyroodhouse Palace, where the display is being gathered in September.
The fourth edition of the Concours of Elegance exhibition, which takes famous cars around royal palaces for charity, will feature models such as an amazing Jaguar D-type.
The Ecurie Ecosse "Long Nose" came second in the 1957 Le Mans endurance event.
It will be among over 60 fantastic machines battling for visitors' attention.
But the display is not just about Ecurie Ecosse cars. Former F1 ace Jackie Stewart will be exhibiting his trio of F1 drivers' championship-winning racers on the palace's lawns.
Sir Jackie said the event has already established an "incredible" story in such a short space of time, starting with the inaugural exhibition at Windsor in 2012. He said that Scotland was the "perfect" venue to stage such an event with its scenery, roads and history.
Scotland's racing heritage is also commemorated through models driven by Johnny Dumfries and Jim Clark. The former's Jaguar XJR-9 which won Le Mans is going on show, as is the latter's two grand prix speed machines.
For many, a venerable Silver Ghost from Rolls-Royce (1911) should hold centre stage, while a J12 Cabriolet from Hispano-Suiza (1933) will also turn heads.
Several charities will benefit from the event, which is being held on the weekend of September 4-6.
These include the ex-military staff organisation Walking With The Wounded, which has Prince Harry as patron, Springfield Motor Racing's Club For Young People and Action On Addiction.
The Ecurie Ecosse's team was easily recognisable by its models' trademark metallic flag blue paint. Its drivers included David Murray, Leslie Thorne, Jimmy Stewart and Ian Stewart. It was started by mechanic Wilkie Wilkinson and racing driver/businessman David Murray.
Adults can buy tickets for £35. Other prices include over-60s £25, students £15, under-17s £10 and children go free.
Copyright Press Association 2015