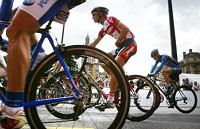 Motorists will not be allowed to use Gateshead Quays throughout Sunday when the Tour of Britain rides into the North East.
The South Shore Road between the Swing Bridge and Mill Road will become the finishing straight for the 2nd stage of the Tour of Britain cycle race.
Participants will race along a 153km route from Darlington to Gateshead through Durham, Wylam, Morpeth, Blyth and Whitley Bay and end the second stage at the finishing line close to the Gateshead Millennium Bridge.
Between 5am and 6pm no traffic will be allowed on South Shore Road. At approximately 2pm, riders are expected to arrive on Gateshead Quays, resulting in no access from 1.30pm to around 3pm to Gateshead Quays residents' car park, the Baltic delivery yard and HMS Calliope.
All other roads being used for the event will be managed with rolling road closures until all participants have passed.
The Tour of Britain begins on September 12 in Scunthorpe and ends in London on September 19.
Copyright © Press Association 2009