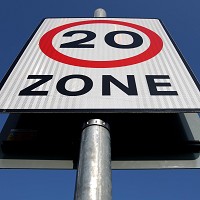 A road safety charity is calling on the Government to cut red tape so councils can lower speed limits.
Brake claims many local authorities across the country are failing to introduce lower speed limits because of cost implications, even though in the long term there would be reduced costs through crash prevention.
It also says guidance from central government is being misinterpreted by a number of councils.
The guidance states that 20mph limits can be introduced on roads where the average speed is 24mph or lower, yet some authorities think the lower limit should not be introduced on roads with an average speed above 20mph.
Removing unnecessary red tape that is preventing lower speed limits would help save the lives of dozens of vulnerable road users on an annual basis, such as pedestrians and cyclists, according to Brake.
Research by the charity reveals signs-only 20mph speed limits could achieve, as a minimum, a 1mph reduction of average traffic speeds. This could lead to a 6% reduction in collisions, preventing injuries and also saving lives.
Speed reductions could be as much as 4% where limits are backed up with public awareness and enforcement campaigns, reducing collisions by 24%.
Dr Tom Fisher, research manager for Brake, says 20mph limits are an effective and globally-recognised solution to unacceptably dangerous roads in built-up areas.
He wants to see the government get rid of restrictive red tape, such as the requirement for costly repeater signs, before eventually setting 20mph as the default speed limit for cities, towns and villages in the UK.
Copyright Press Association 2015