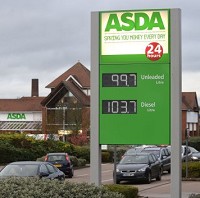 The RAC is calling on the nation's supermarkets to give motorists an early Christmas present by cutting the price of petrol to £1 per litre or less.
The motoring organisation says retailers can achieve that by passing on the savings they are making as a result of low oil and wholesale fuel prices.
Brent crude oil is now priced at just under $40 per barrel, compared with $65 a year ago and $115 in June last year. The latest fall came after OPEC nations decided against cutting production.
The RAC thinks the subsequent fall in the wholesale price of fuel will take average pump prices down to 103p a litre for petrol and 104p per litre for diesel.
It says that would save the driver of a typical family car £9 on a tank of petrol compared to December 2014. Motorists filling up with diesel, meanwhile, would be saving £11.
Simon Williams, a spokesman for RAC Fuel Watch , says supermarkets should "do the right thing" and "embrace the season of goodwill" by passing on their savings on wholesale fuel prices to Britain's motorists.
He says the RAC is hoping that petrol priced at under £1 a litre will become a common sight throughout the UK. And Mr Williams adds that with OPEC not due to meet again until the middle of next year the long-term forecast is for oil prices to remain low.
Copyright Press Association 2015. Motoring News articles do not reflect the RAC's views unless clearly stated.