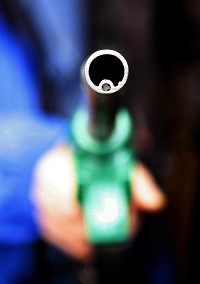 Northern Ireland custom officers have raided a diesel laundering plant in Co Tyrone, seizing 15,000 litres of illicit fuel.
Two men were arrested following the raid on the farm in the Coagh area, while four vehicles, storage tanks and bags of cat litter were removed from the site.
Customs said that the operation was capable of producing three million litres of laundered diesel a year - an output that would cost taxpayers almost £1.75 million in lost revenue annually.
Cat litter was apparently used in metal tubes to filter official markers and dyes out of cheaper industrial/agricultural diesel in an effort to pass it off as garage forecourt quality.
Mike Connolly, assistant director of Specialist Investigations at HM Revenue and Customs (HMRC), said: "HMRC takes the dangerous and illegal practice of laundering fuel very seriously. This seizure has prevented a significant quantity of illicit fuel from entering the market, and prevented criminals from undercutting honest businesses.
"Laundered fuel is being sold at a reduced price, and motorists may think they are getting a bargain because it is cheaper, but I would caution them to think again as this type of fuel can cause damage to your vehicle."
Copyright © Press Association 2009