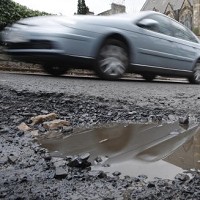 Roads in many parts of the UK are in such a poor state that one more period of severe weather could mean they have to close, it is claimed.
Businesses already face an annual bill of £5 billion due to crumbling roads and it is now essential the Government invests more in resurfacing, according to the Local Government Association (LGA).
It said there is now a repairs backlog with a price tag of £10.5 billion as one in five roads are classed as being in "poor condition".
The LGA said the backlog is growing larger despite council highways teams repairing 2.2 million potholes in 2012 - 500,000 more than the year before - following "decades" of government under-investment.
"Further severe weather could now lead to a tipping point in many areas where roads will become so damaged they will have to close," the LGA warned.
It has written a letter to Danny Alexander, Chief Secretary to the Treasury, calling on him to release more funds for road maintenance to help arrest the decline.
Copyright Press Association 2013