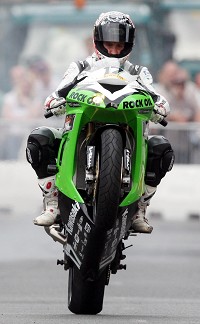 A city square in Scotland has become the main stage for a high-octane superbike extravaganza.
Thousands gathered to see some of the world`s top motorcyclists display their skills in Glasgow's George Square ahead of this weekend's ViSK British Superbikes event at Knockhill Racing Circuit in Fife.
Spectators were treated to a dazzling display of high-speed stunts and wheelies as riders circled the roads around the historic square, entertaining the crowd for two hours.
Jillian Shedden, managing director of Knockhill Racing Circuit, said: "We've brought Superbikes to the people of Glasgow and we decided to have a preview ahead of the Superbikes Championship at the weekend.
"We've worked with Glasgow City Council before and George Square is such a fabulous setting. It lends itself to us going around with the bikes and ripping it up. It's great to be in such a big city bringing the bikes to the people."
The ViSK British Superbike Championship is the top motorcycle racing series in the UK featuring the world's leading riders and is widely regarded as the world's toughest domestic racing series.
Copyright © Press Association 2009