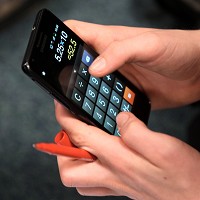 A new study has suggested that crossing the road while using a mobile phone should be stigmatised in the same way that drink-driving is.
The research, which was conducted at the University of Washington in the United States, found that people texting are four times more likely to ignore lights, cross at the middle of a junction or not look both ways before stepping into the road.
And the four authors of the report, who all work at the Harborview Injury Prevention & Research Centre in Seattle, have concluded that safety would be boosted if public perception changed to look down on crossing the road while texting.
"Our study found that many pedestrians send text messages or use mobile devices while crossing the street," Leah Thompson, Frederick Rivara, Rajiv Ayyagari and Beth Ebel confirmed.
"Use of these devices is associated with slower crossing times. Text messaging appears particularly risky."
The researchers also discovered that nearly one in three pedestrians are distracted when they cross roads, with mobile phones and other electronic devices prime culprits, and that increases the risk of them being involved in an accident.
Copyright Press Association 2012