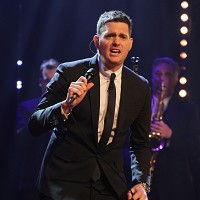 Not just any kind of music qualifies as the food of love, a new survey shows.
Pop and rock lost out to easy listening music in the competition to name the genre best suited to romance a date.
Micheldever Tyre Services polled 1,600 men and women about the kind of music they would play to turn on their date during a romantic drive over the May Bank holiday.
They were asked to choose from 12 musical genres and more than 25% said easy listening music by crooners such as Michael BublŽ or Frank Sinatra had the power to woo.
Tied as the second most popular musical choices for a romantic date were pop and rock, which each earned 18% of the vote.
Classical music only garnered 9% of the vote, putting it in fourth place as the music with the power to make a date swoon. Miles Davis has clearly lost his erotic verve as jazz earned only 3% of the votes. Abreakdown of the results shows that blues fared even worse, receiving 2%.
Respondents rejected hip-hop as a romantic musical choice as only 1% said they would play a tune by Jay Z or BeyoncŽ as a soundtrack during a romantic drive.
Modern folk and electronic music scored as poorly, but then that shouldn't be surprising as neither a hoedown nor a rave seems the likely place for romance.
Copyright Press Association 2013