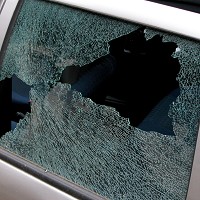 The first police and crime commissioner for Dorset has had his car broken into and his GPS device stolen while attending a conference on crime in the area.
Thieves forcefully opened the window of Martyn Underhill's police car and took the sat-nav while the car was left at the Sovereign Centre in Boscombe, Bournemouth, where he was attending the event.
Mr Underhill said: "We all know Boscombe does have a crime issue. The irony of this incident has not been lost on me."
He had been at the meeting for around two hours, talking about proposals to employ a volunteer advocate to back the commissioner in tackling community problems.
Mr Underhill explained: "I accidentally left my driver's window open by one inch, someone forced the window down and grabbed the sat-nav from the windscreen."
His experience may serve as a warning to fellow drivers, who may find that any claims on their car insurance could be affected if they fail to close car windows properly.
He added that the charger for the device was pulled out of the socket while the sat-nav was taken.
He said that this is the kind of crime that prompted him to look for a voluntary advocate, to assist him in collaborating with partners to find solutions to crime problems.
The force is also actively aiming to address vehicle crime in the region, he said.
Copyright Press Association 2013