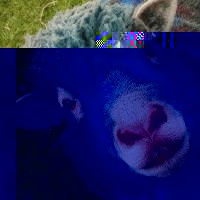 When biker Moray Ferguso hit a sheep on the Cuminestown to Fyvie Road in Scotland it turned out to be an accident he will never forget.
His Honda Fireblade caught fire, the sheep was killed, he suffered multiple injuries - and now the council wants £200 to repair the road.
Moray, a 47-year-old construction engineer and father-of-two, tells the BBC that he was "completely shocked" to get the bill after spending five weeks in hospital.
He says: "The accident wasn't my fault. How was I to know there was going to be a sheep in the middle of the road?"
But says an unrepentant Aberdeenshire council spokesman: "It may be that his insurers will be able to reclaim costs from the owner of the sheep if they were negligent in some way, for example, if there was a hole in fence or a gate was left open."
And the damage to the road? Says a local farmer: "The tar melted in a puddle. There isn't a big hole, but the surface is bubbled."
Copyright © Press Association 2009