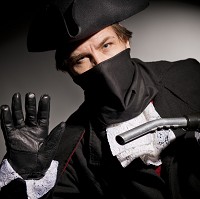 Motorists are falling prey to a new crash-for-cash technique in which criminals act like "highway robbers".
The Insurance Fraud Bureau (IFB) made the comparison after learning of cases where fraudsters contrive a prang before demanding money off victims at accident scenes.
The scam is a fresh twist on traditional crash-for-cash frauds where offenders who make car insurance claims exaggerate their injuries, including whiplash.
The swindlers still press down suddenly on their car brakes with no warning, which leads to the following car almost inevitably crashing into them. But this time they hassle victims into parting with their cash at the scene.
One insurer oversaw an incident where the scammer offered the victim a ride to the nearest cash machine so they could withdraw cash.
Experts fear that the most vulnerable are most at risk. This includes young, novice motorists, women travelling alone or with children, and older people.
Top-of-the-range motors, the most likely to benefit from insurance cover, are also prime targets.
One telltale sign that motorists are being unwittingly caught up in a crash-for-cash scam is that the drivers of the cars they crash in to are abnormally calm, given the situation.
IFB Ben Fletcher, in an interview with Press Association journalists, is urging fraud victims not to assume that settling at the accident scene brings closure to the incident.
These well-organised gangs will often pay a lackey to get behind the wheel of the staged crash car.
If a victim settles there and then, the fraudsters will still make bogus car insurance claims, which usually prove even more profitable, Mr Fletcher says.
Anyone who suspects that their crash was staged can report the details to the IFB's fraud hotline on 08004220421.
Copyright Press Association 2015
https://www.insurancefraudbureau.org/ (Insurance Fraud Bureau)