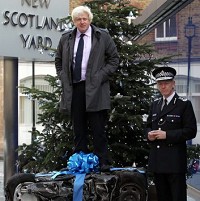 Police have been going to new lengths - and heights - in their bid to crack down on uninsured motorists.
Officers with the Metropolitan Police seized a 72-tonne mobile construction crane after stopping it in London's Belgravia because its driver was uninsured and unlicensed, proving that no vehicles are above the law.
Worth nearly £1 million, the crane is the most expensive of the 100,000 uninsured vehicles confiscated since Operation Cubo was launched in October 2011.
Other vehicles which have been seized during the clampdown in the capital include Lamborghinis, Porsches, Bentleys and Aston Martins.
The haul of luxury cars includes two Lamborghini Aventador supercars, vehicles which have a top speed of 217mph and are together worth some £700,000.
An upmarket Bentley Turbo R saloon has also been taken off the road during Operation Cubo, along with a McLaren sports car and tens of thousands of less expensive vehicles.
Operation Cubo aims to make London's roads safer by targeting illegal drivers and vehicles.
Motorists who have their vehicles seized run the risk of them being crushed.
Copyright Press Association 2014