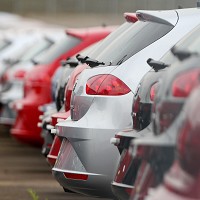 A new online system has been launched to stop VAT fraud on vehicles being brought into the UK.
Developed by HM Revenue & Customs (HMRC), the system will allow the DVLA to ensure people are paying the correct amount of VAT on vehicles that are shipped over from abroad.
Criminals evading VAT on road vehicles they bring into the UK cost the Exchequer £110 million a year.
It is illegal for vehicles to be on the road without VAT, just like it is illegal for vehicles to be on the road without any insurance .
The online Notification of Vehicle Arrivals (NOVA) system means people will only get the go ahead for the registration of the vehicle from the DVLA when VAT has been.
It will also simplify the rules for legitimate users, making it easier to notify HMRC and register vehicles brought into the UK from overseas.
"Criminal gangs abused the old system in the past by bringing vehicles into the UK and registering them with the DVLA without accounting for VAT," said Sally Beggs, deputy director for VAT fraud at HMRC. "That stops today."
People had to deal with HMRC and the DVLA separately under the previous system.
Copyright Press Association 2013