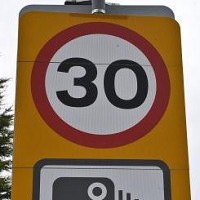 New speed limit plans could "deface rural England", cost £300 million and distract drivers, according to the Campaign to Protect Rural England (CPRE).
It said that there could be around one million new speed limit signs in rural England under the proposals, with local authorities being encouraged by the Government to consider introducing lower speed limits.
The environmental campaigning group also said that local authorities should be given discretion over whether their safest roads should be kept at 60mph.
Following the success of the 20mph zones that have been introduced in residential zones, the group wants to see 40mph zones introduced on minor rural roads, and it has also called for the introduction of 20mph zones to be made cheaper and easier.
CPRE senior transport campaigner Ralph Smyth said: "After deciding against a blanket 50mph national speed limit, the Government wants to encourage local authorities to consider introducing lower speed limits locally, which require repeater signs about every 300 yards."
A Department for Transport spokesman said: "It is vital that drivers know what the speed limit is but incorrect to say that this will mean signs every 300 yards."
The spokesman added that the Government wanted to reduce the amount of speed-related deaths by lowering the limits on the most dangerous roads, but said that it did not want to delay motorists on safer roads by unnecessarily reducing speed limits.
Copyright © Press Association 2009