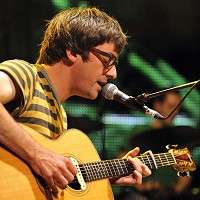 Blur guitarist Graham Coxon is to donate seven rare motorbikes to an auction house where they will be sold in aid of a children's charity.
The motorbikes date as far back as 1962 and will go on auction at Bonhams Autumn Stafford Sale, to be held in Weston Road, Stafford, as part of the Classic Motorcycle Mechanics Show on October 19.
A 1962 Vespa 200CC VB, which is expected to fetch between £2,000 and £3,000, and a 2010 Honda CB1300 Super Four with an estimated value of £3,000 to £4,000 are among the motorbikes to go on sale next month.
They also include a 1968 Triumph Trophy 650 - which was named Best Classic at the 2001 NCC South Cambridgeshire Custom Show and comes with an estimate of £6,000 to £8,000.
Father-of-two Coxon said it seemed "fitting" that the motorbikes should be auctioned in aid of the NSPCC, which is doing vital work in "supporting and protecting children all over the UK".
Paul Farthing, the NSPCC's fundraising director, said the charity is "delighted" that it has been chosen to receive all proceeds from the sale.
He added that the money will help the NSPCC to run services such as ChildLine.
Copyright Press Association 2014