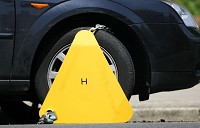 The Government has announced plans to crackdown on "cowboy" wheelclamping firms in the UK.
Transport Minister Sadiq Khan revealed the Government will introduce tough new rules limiting access to driver information.
The actions of those enforcing parking restrictions on private land have alarmed motoring groups.
Currently private firms can ask the Driver and Vehicle Licensing Agency (DVLA) for vehicle keepers' details in order to issue penalty notices for drivers who have illegally parked on private land.
In future they will have to join an accredited trade association, meaning they must abide by a strict code of conduct.
It is part of a cross-Government action plan to radically overhaul the rules governing the enforcement of parking on private land, set for publication in the autumn.
Mr Khan said: "Where drivers break legitimate conditions set by landowners, then it is right that penalties are applied. But we will not tolerate unscrupulous firms breaking the law by overcharging or intimidating motorists.
"We want a fair system that is clearly communicated with an independent complaints procedure.
Copyright © Press Association 2009