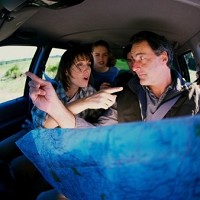 Life behind the steering wheel can be a stressful place - especially, it seems, when you've got your partner beside you in the passenger seat.
The rise of sat-navs has failed to put an end to the good old-fashioned squabble over directions, with nearly eight out 10 UK couples (78%) owning up to a furious route-related row while driving during the last year, a new survey by LHDcarsupermarket revealed.
Music was another common bone of contention, with more than a third of motorists (37%) clashing over who got to choose the tunes for a long drive.
British drivers remain a competitive bunch, with almost a quarter of motorists (23%) confessing to a row with their partner over who possessed the superior driving skills.
And almost one in 10 drivers (9%) have locked horns with their loved one after being challenged for looking at an attractive passer-by while out driving, the study found.
Despite the occasional temper tantrum, driving with a partner can be one of life's great pleasures, but it's crucial that both your names are on the car insurance policy if you plan to take turns behind the wheel.
Car temperature was yet another flashpoint for couples out on the road, with 17% saying they had bickered over the heating system or opening a window.
Copyright Press Association 2013