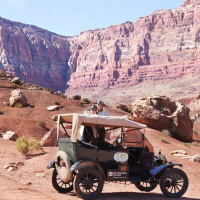 Driving around the world would be a difficult enough challenge for motorists using the most modern of cars.
But Dirk and Trudy Regter are well on their way to completing the task in a century-old Ford Model T.
The adventurous couple, who set off from their home in the Netherlands in 2012, have already clocked up tens of thousands of miles driving through Europe, Africa, North America and South America.
And they hope to complete their motoring quest this year by driving the 101-year-old vehicle back home through Australasia, Asia and eastern Europe.
Their journey so far has helped the pair raise thousands of pounds for projects run around the world by SOS Children's Villages, an international aid organisation.
It has also seen them having to deal with various dramas in some fairly novel ways.
While driving through Africa the Regters had to enlist the help of a local blacksmith to weld a broken front wheel. And on the Botswana-South Africa border a farmer came to the rescue by giving them the tyre from his own Ford Model T.
This year's covers New Zealand, Australia, Indonesia, India, China, Mongolia and Europe.
Ford's Model T was the world's first mass-produced car. Production began in 1908 and continued until 1927.
Copyright Press Association 2016. Motoring News articles do not reflect the RAC's views unless clearly stated.