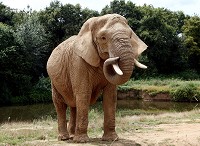 A US couple travelling along rural highways of Oklahoma just missed a head-on collision with an elephant after it escaped from a nearby circus.
Bill and Deena Carpenter, who were returning home from church, managed to just sideswipe the 29-year-old female elephant in Enid, about 80 miles (129 kilometres) north of Oklahoma City.
Mr Carpenter said: "I didn't have time to hit the brakes. The elephant blended in with the road. At the very last second I said 'elephant!'"
The 68-year-old, who succeeded in stopping the car just before head-on impact occurred, said: "So help me Hanna, had I hit that elephant, not swerved, it would have knocked it off its legs, and it would have landed right on top of us."
He added: "We'd have been history."
The couple, who own a wheat farm, had no injuries. But the SUV's sheet metal tore when the elephant's tusk punched into the vehicle.
The animal, which is eight-foot and 4,500 pound, was treated for a broken tusk and a leg wound.
After the incident, Ms Carpenter flagged some people down and used their phones to call police.
"The dispatcher didn't believe her: 'You hit a what?'" Mr Carpenter recalled.
Copyright © Press Association 2009