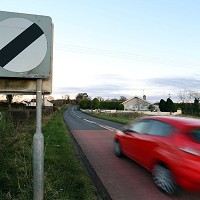 Three people are killed on Britain's country roads every day, making them the deadliest roads nationwide.
Figures released by the Department for Transport (DfT) reveal a total of 1,040 people were killed and 9,051 seriously injured on country roads last year.
Some 348 of the fatalities recorded during the 12-month period occurred on a bend.
In light of the shocking statistics, DfT's road safety project THINK! has launched a new country roads campaign in a bid to encourage drivers to anticipate hazards and brake before they reach a bend, not on it.
Almost a quarter (23%) of motorists in England and Wales admit to braking too late on bends, according to separate research, while two-fifths (41%) claim to have swerved to avoid something in the road.
Among those aged 18 to 24, almost a third (32%) admit reaching a bend too fast, plus a further 14% even take the so-called racing line by crossing into the opposite side of the road to complete a turn faster.
Former England rugby star Phil Vickery, who says he has been involved in several near misses and minor incidents on country roads, is backing the new campaign.
He says he is often shocked at the lack of care other drivers take when driving around blind bends.
Road safety minister, Andrew Jones, hopes the campaign can persuade drivers to watch their speed and take care when approaching a bend.
Copyright Press Association 2015