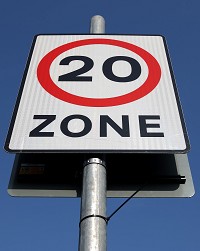 More children are likely to walk to schools if traffic speeds are reduced, new research by a charity has suggested.
Around two-fifths of parents surveyed by Living Streets said they would be happy to allow their children to walk if speed limits were reduced to 20mph.
One in five parents whose children did not currently walk to school said they may allow the youngsters to do so if the switch was made.
The charity is calling on local councils to introduce 20mph zones in areas where people live, work and play.
Chief executive Tony Armstrong said: "Walking to school has so many benefits we need to make sure it's an attractive option for families right across the UK - something that can be impossible when faced with speeding traffic."
The report, published ahead of the start of International Walk to School Month, noted that while one in five pedestrians struck by a car at 30mph die, the number is reduced to one in 40 at 20mph.
It also cited the example of Hull City Council which saw a 74% reduction in the number of child pedestrian casualties between 1995 and 2007 after creating 20mph zones on a quarter of the roads.
Copyright © Press Association 2009