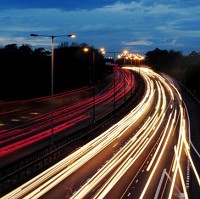 Thousands of roadside lights are being turned off overnight as local councils try to save cash and cut carbon emissions, according to a report.
An estimated 3,080 miles of motorways, trunk roads and city streets are being plunged into darkness around England between midnight and 5am as part of an ongoing cost-cutting measure.
Some 98 of 134 councils surveyed by the Sunday Telegraph said they had already switched the lights off or revealed plans to join those that have in the near future.
All 27 of England's county councils have either turned off or dimmed street lights, with many consumers expressing concerns about a rise in crime and an increase in potential car insurance claims.
The Highways Agency said that 70% of Britain's motorway network was unlit at night last year, reducing carbon emissions and saving around £400,000 in energy costs.
Speaking to the Telegraph, a spokesman for the Royal Society for the Prevention of Accidents said: "There are economic and environmental reasons why some organisations may wish to reduce the amount of lighting. However, there are safety reasons why lighting needs to be available."
Copyright Press Association 2012