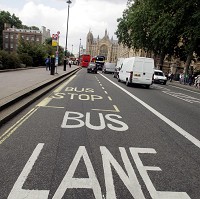 Twenty councils are seeking new powers to fine drivers for a range of minor traffic offences, including encroaching on yellow boxes or driving in bus and cycle lanes.
At the moment, local authorities outside of London can only issue fines to motorists parked illegally, but they are now calling for the same rights as authorities in the capital, where councils used their extended powers to fine 800,000 motorists last year, raising more than £50 million on top of £250 million in parking fines.
Ministers indicated they were "sympathetic" to the plans, but motoring groups said that councils would use them as a "cash cow".
They warned that councils were likely to be "over-zealous" and use the new powers as a "revenue raiser". The prospect of more fines could deter drivers who already have high costs to contend with, including car insurance and road tax - and this despite the coalition promising to end the "war on motorists" when it came to power.
The Department of Transport is thought to have been in discussions with 20 councils about giving them the new powers, including Birmingham, Brighton and Hove, Bristol, Leeds, Liverpool, Manchester, Newcastle, Nottingham, Plymouth, Reading, Salford, Sheffield and Southampton.
Copyright Press Association 2012