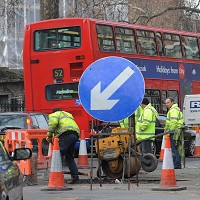 Local authorities are appealing to the Government to approve a scheme aimed at controlling the holes and trenches dug by utility companies in London.
The London Permit Scheme, backed by 18 boroughs in the capital, will ensure that firms who dig up the roads agree to conditions and timings that will limit disruption.
The transport secretary has the final say on whether the scheme goes ahead and a decision is expected within the next three months.
Local councils only have limited powers over where, when and for how long companies can dig up roads.
Mayor of London Boris Johnson said: "We have introduced a voluntary code of conduct, working with the companies on keeping the roads clearer.
"But a crucial step is to give the process some real teeth, which is what we are asking the Government to empower us to do with this permit scheme."
If approved, the scheme could be in place before the end of the year and will ensure that roadworks are carried out as quickly as possible.
Copyright © Press Association 2009