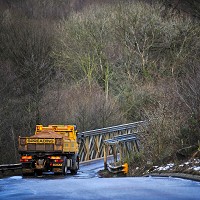 Local authorities are confident they are ready to cope with the potentially problematic weather conditions on the roads this year.
Councils across England and Wales stockpiled 1.3 million tonnes of salt last winter, with 95% of local authorities increasing or maintaining current levels for 2013/14 - according to a poll by the Local Government Association (LGA).
The survey also revealed that around half of councils are willing to share equipment and salt with neighbouring councils.
Local governments are also stepping up the range of techniques used to ensure that roads remain open during winter months. Around 82% of councils have had GPS trackers fitted to their gritters this year, while others have deployed liquid de-icers, sugar-coated salt and saltwater to help clear ice and snow.
"Last month's St Jude storm proved that councils continue to rise to the challenge presented by the adverse weather this country can face and being prepared for winter remains a priority for councils," Peter Box, the LGA's economy and transport board chairman, said.
"Despite tough financial times, councils are investing in new gritting equipment, exploring innovative techniques to tackle snow and frost and working alongside neighbouring councils and community groups."
RAC spokesman Simon Williams said: "The country's ability to cope with adverse winter weather like snow and ice has improved dramatically since the shortage of road salt we experienced in the winter of 2009/2010.
"The cold weather earlier this year certainly had far less impact on the road network than it could have done if councils and the Highways Agency had not been so well prepared. We hope that councils' stockpiles of salt do not have to be used too often this winter and if the weather is as bad as some forecasters predict that their confidence proves to be justified."
As is the case with motoring all year round, drivers should ensure that they have breakdown cover in place to protect them against being stranded this winter.
Copyright Press Association 2013