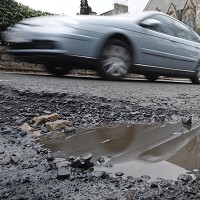 Councils have paid out more than £3 million to drivers over damage caused to their vehicles by potholes, the RAC Foundation has said.
Some 48,664 claims were received by 200 councils in Britain in the 2013/14 financial year, up from 46,139 the previous year, figures obtained via freedom of information requests have revealed.
But most claims were rejected by local authorities in England, Wales and Scotland, with just under a quarter (23%) successful, resulting in payouts totalling £3.2 million.
This works out at an average of £286 per claimant, lower than the previous average payout, which stood at £357.
Councils incurred average administration costs of £147 per claim as they faced the equivalent of a claim every 11 minutes on every day of the year.
England accounted for the majority of the claims made, at 42,662, with payouts totalling £2.9 million for the 9,792 successful claims.
Copyright Press Association 2015