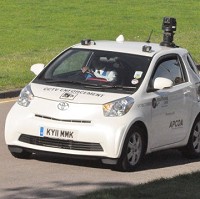 Local councils have been compared to the former East German secret police the Stasi, in relation to parking fines.
Brandon Lewis, the Local Government Minister, compared use of "CCTV spy cars" to Stasi tactics, saying councils use parking fines to raise cash on an "industrial scale".
Town halls are focusing on hard-pressed parents who drop off children on the school run, argues Mr Lewis, adding that it is hard for motorists to challenge on appeal as fines are received through the post weeks afterwards.
But the Local Government Association has said such monitoring keeps roads clear and helps drivers in parking near their homes or the shops, and has denied parking enforcement is used to make money.
Government plans which went out to consultation in 2013 are aimed at stopping local authorities using CCTV and "spy cars" to bring about fines.
Guidance lines have been stated by the Department for Communities and Local Government, saying cameras must be used in "difficult or sensitive" situations only, and in cases where a warden cannot enforce the rules practicably.
CCTV is not used for parking enforcement by many authorities, said the department.
Copyright Press Association 2014