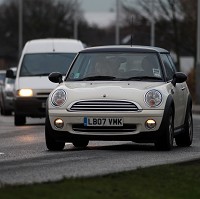 Oxfordshire, Buckinghamshire and Northamptonshire county councils are calling on the Government to invest more in major roads and infrastructure.
They want £2.8 billion over a period of five years to fix problems and improve journey times for motorists.
The A34 through Oxfordshire is one of several roads that would benefit, if the trio get their way.
The demands were unveiled as part of the so-called "England's Economic Heartland" alliance, which advocates the importance of investment in strategic transport corridors to realising ambitions for growth both locally and nationally.
Ian Hudspeth, leader of Oxfordshire County Council, says it is important that investment in the major roads network is planned with neighbouring counties, as many journeys with a big impact on the local economy do not start or end in Oxfordshire.
He claims investment is needed as these roads are crucial to creating jobs and helping people get to work.
While the three councils have previously stressed there are no plans to form a combined authority, a recent statement explains that a "growing devolution agenda nationally has provided the platform for this new approach".
They propose a new transport infrastructure forum to link up the transport plans of the authorities.
It is hoped that it will be in place by 2016 and be recognised by legislation.
Other proposals include "smart" electronic ticketing for public transport across the three counties, as well as a single joint car parking enforcement scheme.
A "rapid response" service, involving the police, fire and ambulance services, could also be created, plus there are plans for Highways England to manage accidents and incidents more effectively across the road network.
Copyright Press Association 2015