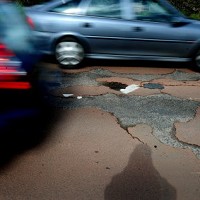 Local councillors rated improving road surfaces and cutting potholes as the most pressing road safety priority in a poll by the Institute of Advanced Motorists (IAM).
Almost three-quarters of the councillors canvassed by the road safety charity put potholes in their top five road safety priorities, with over six in 10 expecting the budgets for repairing them to drop or remain the same.
Almost 50% of councillors believe road safety targets should have remained in place, while just fewer than three in five agree that budget cuts are affecting roads and road safety.
One in four councillors strongly agree.
While councillors accepted transport was a priority, one in two predicted a drop in their transport budget over the next 12 months.
Almost three in five councillors backed 20mph speed limits, while 15% would welcome lower limits for the majority of urban roads.
A move to 20mph restrictions would force motorists to drive slower, with drivers ultimately benefiting as accident rates and car insurance premiums drop.
IAM chief executive Simon Best said: "It's good to see that potholes are councillors' top priority as this is a big concern for motorists.
"More must be done to fix our roads before the backlog of repairs becomes unmanageable."
Copyright Press Association 2013