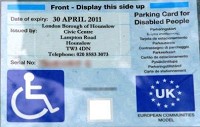 A council parking-services worker in London has been fired for faking a disability badge to leave her BMW car outside the town hall.
Now Sandeep Bhardwaj, 36, of Stanmore, north London, has also been fined £250 with £1,000 costs by Harrow magistrates after she failed to appear in court.
She was convicted after the court heard how Harrow council fraud officers used covert surveillance following complaints by a fellow member of staff.
The officers caught Bhardwaj, who had an administrative role in the authority's parking department, six times on camera within two weeks.
Says council spokeswoman Susan Hall: "It was important to show that the authority expects high standards from its own employees and that we will take action where they fall short."
The Blue Badge parking scheme operates throughout the UK and provides a range of parking concessions for people with severe mobility problems who have difficulty using public transport. Holders also have a 100% exemption from the London Congestion Charge.
Copyright © Press Association 2009