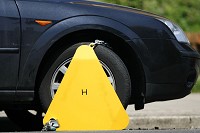 The Royal Borough of Windsor and Maidenhead Council has voted to start issuing Anti Social Behaviour Orders (Asbos) to car clampers over concerns they are damaging the area's tourist destination reputation.
Every year thousands of tourists visit the area to see Windsor Castle, an official residence of the Queen, and Tory councillor Phillip Bicknell said firms take advantage by clamping them for "little or no real justification".
He said despite warning signs being put up around the area, many tourists are still clamped.
Mr Bicknell said: "Our reputation as a town and as a tourist destination is being damaged and we must take radical action."
Although no timetable has been set for the issuing of Asbos, the council hopes to start taking action before Christmas.
It had already called for an outright clamping ban in response to Department for Transport consultation. The Government itself is set to propose a new regulator for the industry.
Copyright © Press Association 2009