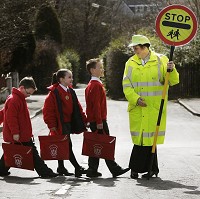 A council has decided to hold a stop sign up to its lollipop ladies and men, putting their crossing patrol jobs at risk in an effort to save £200,000 a year.
Conservative Wandsworth council in west London said most parents take their young children to school nowadays. Many are likely to travel in their own car with the help of ajourney planner to avoid rush hour traffic.
The patrol decision was attacked by the union representing the workers. GMB union said the local authority was threatening children's safety.
A spokesman for the council said that due to "very difficult economic circumstances" in Britain, £70 million is having to be cut from the council's budget over four years.
He added: "Decisions are having to be taken on a daily basis on how best to protect and safeguard the statutory frontline services that our residents rely on.
"Parents simply don't allow small children to make this journey on their own, especially if it involves crossing roads. Older children cross roads that do not have patrollers perfectly safely every day and many of these roads are busier than those with patrols."
According to the spokesman only one in three of the borough's schools had a lollipop person.
He continued: "We have invested heavily in making the roads around our schools safer for children and their families and despite our difficult financial situation we will continue to make road safety improvements in the years ahead."
Copyright Press Association 2012