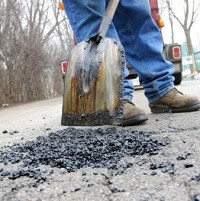 A local authority has said it is to start building roads which will not suffer from the pothole problem and which will last a decade before needing repaired.
Any repair costs under the 10-year guarantee will be met by the firm which built the route, Surrey County Council said, offering potential future relief to motorists having to claim on their car insurance to pay for constant repairs.
The council has been doing one road repair job every five minutes on average around the region since the beginning of the year.
Around 300 miles of Surrey roads will now be rebuilt completely from scratch, the council said.
The project is said to cost £100 million.
Contractors can more readily provide a 10-year warranty on roads they have built because of new watertight surface treatments and improvements in building techniques, the local authority said.
Council spokesman Jason Russell said: "A Herculean effort is going into fixing road damage caused by the bitterly cold winter, with repairs being made at a rate of almost one every five minutes.
"But we can't go on papering over the cracks with quick fixes to tired old roads forever."
Copyright Press Association 2013