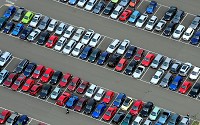 Nottingham City Council has become the first local authority in Britain to approve a workplace parking levy on major employers.
The council said the tax on businesses with more than 10 parking spaces for employees would raise around £14 million per year when it begins in 2012.
The scheme will be introduced without charge in October 2011, six months before charges come into force in April 2012.
Jane Urquhart, Nottingham's Portfolio Holder for Transport, said the phased implementation would be beneficial for both the council and employers in Nottingham, making for a smoother introduction of the scheme and also giving time for the economy to pick up.
The levy will target large organisations that have 11 or more car parking spaces for employees, which the council estimates to be about 15% of all employers in Nottingham.
Copyright © Press Association 2009