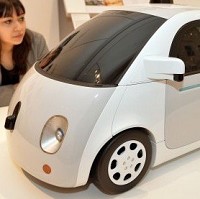 Self-driving vehicles could slash congestion in built-up areas by 90%, experts are hoping.
AutoVots", "TaxiBots" and other examples of driverless tech could lead a revolution in taking vehicles off the UK's roads, according to the International Transport Forum (ITF).
The high-level think-tank said that only 65% of today's vehicle volume should be required in peak rush-hour period to ferry the same amount of passengers from and to their jobs.
During other periods, as much as 90% could be removed from the road, the ITF's new study said.
AutoVots drop off and pick up travellers in the optimum, time-effective and economical manner, while many passengers could share TaxiBots going in similar directions.
In addition, such innovations could dispense with on-street parking, freeing up a fifth of the UK's road space to be re-assigned for other purposes said the ITF.
Driverless technology has unknown implications for the car insurance industry, but what the Forum does know is that electric vehicles would be needed to replace traditional engines, to compensate for the rise in mileage covered by AutoVots and TaxiBots.
This is because they would have to undertake more circuitous routes to take home every passenger.
Meanwhile, Google has reportedly patented a driverless vehicle capable of detecting and responding to bike rider's hand signals.
The vehicle's many sensors will pick up signals from cyclists, among other road users and modes of transport.
The US tech giant revealed last year that its self-driving vehicles would be able to do this, but the full details have only emerged since the new patent was revealed.
The sensors watch cyclists' hands and arms for gestures signalling their intentions to slow down or turn and alter the vehicle's own speed accordingly, the documents explained.
Google predicts that motorists will be using such cars, prototype "bubble" cars with two seats, from between 2017 and 2020.
These cars would employ a blend of Lidar, radar and camera to gather data about items around it.
They would analyse objects' heights and compare them with typical cyclists' heights.
The smart car would compute the distance separating the pavement and the biker's head, as well as recording the object's road position. Its special algorithm would then work out if the road contains a cyclist and adjusts appropriately.
Copyright Press Association 2015