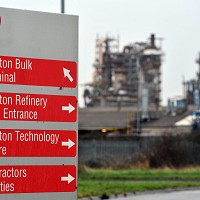 An estimated 850 workers at the troubled Coryton oil refinery in Essex could lose their jobs after administrators announced it will shut down due to a lack of investors.
According to administrators PwC, a "substantial" amount of redundancies is likely to be made which could affect 500 of the plant's staff, while some 350 contractors are also at risk of becoming unemployed.
A cash boost of £625 million is needed to turn the oil refinery's fortunes around, but after finding no funders PwC said it will gradually close down the site over the summer.
Coryton spiralled into administration at the beginning of 2012 and has been labelled the biggest independent oil refinery in the UK, pumping out 20% of fuel to the South East and London. The Exxon Mobil refinery at Fawley is the other main supplier for the two regions.
BP, a key customer of Coryton, claimed "no disruption" will occur to their customers' services, saying there were "many alternative suppliers in the area".
Copyright Press Association 2012