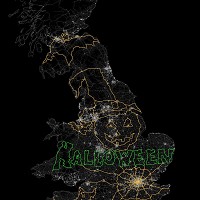 Vauxhall's publicity campaign surrounding its latest Corsa supermini is proving a big draw, quite literally.
The manufacturer's Halloween-themed stunt has seen it claim a new world best for the biggest GPS-guided drawing, beating the previous record by a full 1,580 miles.
Witches, bats, ghosts, bats and cobwebs and the word "HALLOWEEN" are among the features of the artwork created by the Corsa "paintbrush".
It drove 6,080 miles across mainland Britain, setting its journey planner at strategic points to achieve the effect.
Simon Hucknall, PR manager of Vauxhall, said the "epic" Guinness-verified record is fitting because Corsas are at large in all parts of the country.
GPS art pioneer Jeremy Wood piloted the car during the record-breaking creation.
The new model's GPS receiver recorded more than 264,000 different positions and linked them together in a kind of virtual dot-to-dot artwork with Britain as its canvas.
Hucknall says that the image is apt since the Corsa has become part of the British driving landscape.
Copyright Press Association 2014