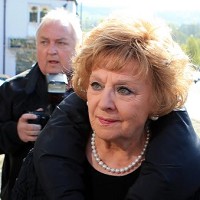 The legal team representing actress Barbara Knox have asked to analyse the prosecution's toxicology procedures.
Knox, who plays Rita Tanner in Coronation Street is charged with drink-driving, but at an earlier hearing denied the charges.
The 80-year-old did not attend Macclesfield Magistrates' Court for the latest hearing, when Tim Ashmole, representing Knox, asked for a date to be set in October to allow his legal team to examine the toxicology procedures.
On 10 March this year, the actress was arrested following an incident in Knutsford, Cheshire.
Knox was said to be in a car with her daughter Maxine Ashcroft, 56, when police pulled them over. A member of the public had reported that the driver had been drinking. When tested at Middlewich Police Station Ashcroft was found to be three times over the legal limit.
Ms Knox later arrived at the police station and was also arrested on suspicion of drink-driving. A sample of blood was taken which gave an alcohol reading of 85 micrograms per 100 millilitres of blood - the legal limit is 80.
Ashcroft, from Lechlade, Gloucestershire, was later banned from driving for two years.
At the latest hearing District Judge Bridget Knight set a date for a further case management hearing for Knox at Crewe Magistrates' Court on 6 October.
Copyright Press Association 2014