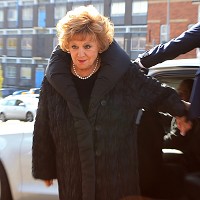 The actress who plays Rita Tanner in Coronation Street faces a drink-drive trail next year after a Crewe district judge set a February 9-10 date.
Long-running soap star Barbara Knox, 81, who did not appear herself, denies the charge which followed an incident on March 10 in Knutsford, Cheshire.
If convicted by magistrates Knox faces a maximum £5,000 fine, a motoring ban of upwards of a year or even a small prison sentence. Her car insurance premiums will also almost certainly rise.
Knox, from Mere, Cheshire, was charged after providing a blood sample. This read 85 milligrams of alcohol in 100 millilitres' blood - five milligrams above the legal limit.
Reports say she was a Jaguar passenger while Maxine Ashcroft, her daughter, drove. Ashcroft, 56, was almost three times over the legal maximum.
Knox then came to the police station in Middlewich where Ashcroft, of Lechlade, Gloucestershire, had been breathalysed and herself arrested, suspected of drink-driving.
Ashcroft received a two-year motoring ban.
Copyright Press Association 2014