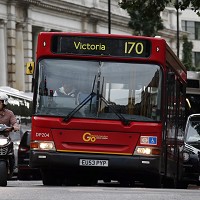 Getting around London on a deadline can be a thankless task for drivers.
Heavy traffic, congestion charges, cyclists and millions of pedestrians can all have an effect on your stress levels behind the wheel.
But advice is at hand for anyone wishing to drive through one of the world's biggest cities from the Institute of Advanced Motorists.
The road safety charity's Peter Rodger says it is always important to expect the unexpected - with heavy traffic comes frustration, and with that comes unpredictability.
You will be faced with more cyclists and pedestrians than you might normally expect. As ever, they should be accorded plenty of room, and special care must be taken on narrow roads with parked vehicles by the side.
There's no excuse these days for not keeping up with traffic updates, in the form of radio bulletins and sat-nav or simple forward planning using the internet. Keep alternative routes in mind, and beware road closures and diversions.
If you get caught in a jam, remember to keep the car moving for as long as possible. Stop-start burns more fuel.
Wrongly-inflated tyres can also effect fuel economy. Mr Rodger reminds us that going into any vastly populated city can lead to congestion being an issue - so take your time, plan well, expect sluggish movement around the main arteries and be aware of when you need to pay congestion charges.
Copyright Press Association 2014