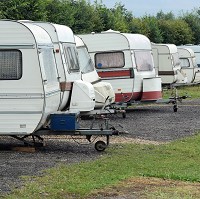 Often the butt of jokes and the scourge of drivers who find themselves stuck behind them, caravans are, nevertheless, clearly very popular with some people.
The term 'caravan' is the fifth most searched-for item on eBay Motors, the motoring offshoot of the online auction website. This works out as a new term being typed into the site around every 17 seconds.
Despite unpopularity from some quarters, caravans have no doubt benefited in the PR stakes from being associated with well-liked famous faces such as Oscar-winning actress Helen Mirren and Pulp frontman Jarvis Cocker.
And with loads of great offers on caravan insurance , not to mention breakdown cover , available, it's hardly surprising these mobile homes seem to be rising in popularity.
Variations on the caravan like 'camper van' and 'motorhome' also make it onto the site's searched for list, ranking 12th and 14th respectively.
Top of eBay Motors' searched-for list is 'spares or repair', while 'cars' and 'classic cars' are joint second. The term 'project' comes in in fourth place.
Copyright Press Association 2014