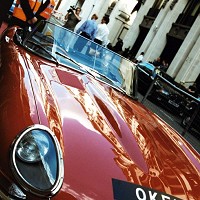 Soft-top car drivers are risking hearing loss through consistent use of the popular status symbols, researchers have warned.
The scientists involved measured the noises made by engines, wind, other traffic and wheels at speeds between 50 and 70 mph, and found they could create serious hearing loss.
The loudest noise recorded was at 99 decibels, but drivers were often exposed to between 88 and 90 decibels while using a car. Hearing loss is thought to occur at consistent exposure to any volume above 85 decibels.
One remedy for people unwilling to give up the joys of top-down motoring is keeping the car windows raised, said the researchers. This could significantly reduce noise exposure levels to 82 decibels.
The research was presented at the 2009 American Academy of Otolaryngology-Head and Neck Surgery Foundation annual meeting in San Diego, California.
Copyright © Press Association 2009