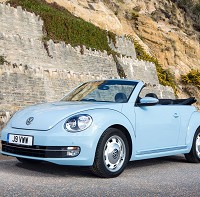 Soft-top car sales have risen tenfold over the past decade, according to the SMMT.
People buying a car capable of having its roof down rocketed by 1,182% between 2004 and 2014.
The boom comes with a cautionary note, however, with a car history check expert warning of the downsides to dropheads.
For now, though, the Society of Motor Manufacturers and Traders says this UK trend shows no signs of slowing down, with a growing range of choice expected next year.
For example, Aston Martin is launching an oomph-laden V12 engine-powered convertible in 2016. The Vantage S Roadster was unveiled on California's famous Pebble Beach last August. It's capable of travelling from 0-to-62 mph in only 3.9 seconds and can achieve a 201mph maximum speed.
Next year will also see Rolls-Royce's latest Ghost convertible, the Dawn , hit the roads. The eagerly-anticipated model was unveiled last month at a Los Angeles conference.
A SMMT spokesman confirmed there are more open tops on sale, affording buyers more choice than ever before. He calls the new sales figures "great news", saying it demonstrates that UK motorists' love affair with convertibles is at an all-time high.
But HPI greeted the news with more caution. The car history check expert's Neil Hodson said that its statistics for last year emphasised the need to be wary. Only superminis and family cars got written-off more than soft tops. It also sat in third place when it comes to insurance write-offs.
Furthermore, outstanding finance was owed on a fifth of dropheads and one in two of them will have received a personal number plate transferred to it, he added. Mr Hodson also said that convertible cars are more likely to have their mileometers tampered with.
He went on to say it is easy for romantics to dream of motoring down countryside lanes with their roof off. But pre-loved open top buyers should guard against wasting their money on a car which hides a potentially expensive secret.
Copyright Press Association 2015