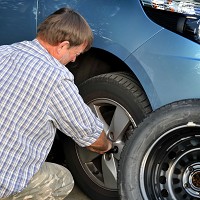 Continental tyres have taken the top spot in two Best Buy categories of a Which? magazine survey.
The ContiPremiumContact 5 and ContiSportContact 5 were awarded Best Buy status in two tyre sizes of the Which? endorsements, which reveal must-have tyres across all popular sizes.
Exceptional performance is highlighted with an overall ranking, and consumers see the awards as an important indicator when looking to choose the best available products. In tyre size 225/45 R17 W/Y, Continental has taken top spot with the ContiSportContact 5, which is popular on models such as the BMW 3 series, Ford Focus and VW Touran.
In this size, Continental received an overall rating of 69%, sufficient to gain the Which? Best Buy status, and the magazine commented: "The Continental is best overall for braking, traction and handling on wet roads, also proving very good on dry tarmac."
A smaller tyre size, the 185/60 R15H, is the most popular supermini size in the market and is commonly fitted on Mini's, Peugeot 208's and VW Polo's. The ContiPremiumContact 5 was awarded Best Buy status for this size also, beating off competition from 17 other tyre brands to take the top spot with a 69% rating. On this tyre Which? commented: "The Continental is sure-footed on wet roads and low rolling resistance means good fuel economy."
Copyright Press Association 2013