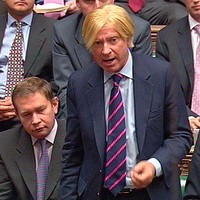 A Tory MP and former Government whip has confessed to being caught speeding.
Michael Fabricant, relieved of his position in David Cameron's September reshuffle, told the Commons this week that his car was photographed by a speed camera breaking the speed limit in South Wales.
The Lichfield MP was speaking as MPs considered improvements to Welsh railways lines.
"Having just received a speeding fine from South Wales Police for going at 35mph in a 30mph zone - which was quite shocking to me this morning, I might add - may I say that this news of electrification is a great encouragement to me to use the railway in future."
Speaking at Commons' Questions later, transport minister Simon Burns responded with the old saying "It just goes to show the old adage is always the best adage: let the train take the strain."
Mr Fabricant now faces returning a form that confirms he was driving the car at the specified time.
He could then be fined £60 with three penalty points endorsed on his licence, and doubtless an increase in his car insurance premium.
Or as an alternative, he can be offered an £80, four-hour speed awareness course run by the Go Safe campaign.
Formerly responsible for party discipline, Mr Fabricant, as a prolific user of Twitter, took to the social media platform to inform his 5,780 followers about his offence.
Copyright Press Association 2012