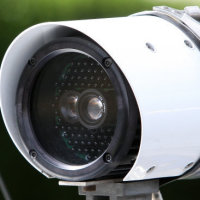 Millions of motorists a day are having images of their number plates captured by roads surveillance cameras, according to new figures.
The UK's network of over 9,000 automatic number plate recognition (ANPR) cameras is taking pictures of around 34 million vehicles every day, Sky News has reported.
With the pictures stored for up to two years, that means the police have access to well over 20 billion records.
And the figures show that the database holding them was searched by police officers more than 300,000 times in 2014, an increase of over 50% compared to 2012.
An image of the front of a vehicle, including its driver's face, is captured when it passes ANPR cameras, which are located on most motorways and other major roads.
Police say the cameras, which are also installed inside patrol vehicles, allow officers to follow criminals in real time as they drive around the road network.
But Jonathan Bamford, of the Information Commissioner's Office, has said they are also collecting images from millions of ordinary motorists.
And privacy campaigners have called for a proper debate to be held on how the technology is used.
The Home Office, though, says the cameras provide the police with valuable intelligence which helps them detect and prevent crime.
Strict safeguards related to the technology's use, it adds, are contained in the Data Protection Act and the Surveillance Camera Code of Practice.
Copyright Press Association 2016. Motoring News articles do not reflect the RAC's views unless clearly stated.