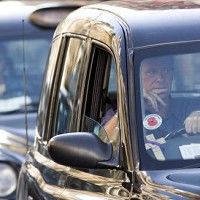 Taxi drivers and motoring groups are among those concerned about plans to introduce fines for stationary motorists who leave their engines running.
Drivers using Westminster City Council's roads in London face the £20 "idling" penalty from the start of May.
The local authority says it is launching the scheme in a bid to lower pollution levels. But the London Taxi Drivers Association (LTDA) claims the measure would not improve air quality.
The Institute of Advanced Motorists (IAM) is among the groups concerned about which motorists such fines will be aimed at.
The council said its traffic marshals are expected to warn people first. This would involve tapping on car windows and requesting drivers to switch off their engines if, for instance, they are waiting for a person outside a workplace.
A Westminster Council spokesman said motorists stuck in jams or waiting at traffic light junctions are not the objects of the initiative.
Neil Greig, an IAM director, says lawmakers could leave themselves open to being accused of creating another cash cow.
This would especially be the case if they ignore older, more polluting vehicles and target motorists stopping momentarily in modern, clean models, Mr Greig said in an interview with the BBC.
Steve McNamara, general secretary of the LTDA, claims the move will do nothing to combat the capital's "pollution crisis".
Copyright Press Association 2015