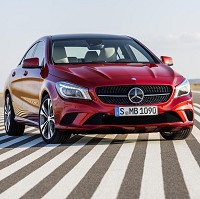 Car badge snobbery is alive and well among business users, research suggests.
BMW tops the pile of most desirable brands among company car users - with almost a fifth (19%) putting it at the top of their motoring wishlist.
German models dominate the top 10; with Mercedes-Benz (14%) and Audi (12%) combining with BMW to account for nearly half (45%) of all votes in the survey by Sewells Research.
US manufacturer Ford managed to break up the big three German brands, coming in at number two with 14% of the vote in the Fleet Operator Attitudes Survey.
The shift towards German marques is reflected in data from the Society of Motor Manufacturers and Traders which shows fleet sales jumped by nearly 20% for Mercedes, while Audi sales grew 7.23% and BMW's were up by 5.63%.
In contrast, traditional fleet stalwarts Vauxhall and Ford had more modest sales growth, at 0.84% and 2.65% respectively.
But their share of the fleet market is still holding up because of their greater affordability, said Simon Staplehurst, commercial manager at Sewells.
While some 40% of fleet managers take into account drivers' opinions on which car they would like to have, many also factor in cost differentials, which work in favour of less prestigious brands.
The rest of the top 10 was made up of Volkswagen (9%), Vauxhall (5%), Toyota (5%), Volvo (2%), Jaguar (2%) and Honda (1%).
Copyright Press Association 2014