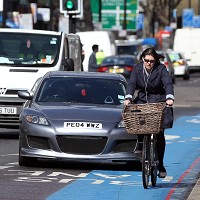 A rise in driving offences committed by motorists in company cars is "worrying", especially the increase in speeding violations, an expert said.
In 2012, drivers of company cars committed a violation every 50 seconds of the working week, according to a poll by Lex Autolease, the vehicle management solution firm.
After studying statistics on a fleet of 270,000 vehicles, Lex Autolease discovered a total of 121,154 driving violations in 2012, representing an increase of 9.5% over a year earlier.
In a breakdown of driving offences, Lex Autolease discovered that bus lane violations rocketed up 30.3% in 2012 from a year earlier, while speeding violations went up 11.5% and parking offences rose almost 13% over those recorded in 2011.
Offenders driving company cars paid out more than £7 million in fines in 2012, representing a 9.3% increase over the amount paid in 2011.
"In general, company car and van drivers are under significant pressure to complete each journey as quickly and efficiently as possible and hit tight deadlines," said Lex Autolease fleet operations head Ian Thomson.
"Unfortunately, this pressure can also have a negative impact on their driving behaviour."
Mr Thomson continued: "It is worrying to see an increase in the total number of motoring offences and in particular a rise in speeding-related infringements. Fleet managers have placed a great emphasis on health and safety during the last few years. Under their duty of care obligations they must continue to educate their drivers about the need to drive safely and the consequences of poor motoring behaviour."
Copyright © Press Association 2012